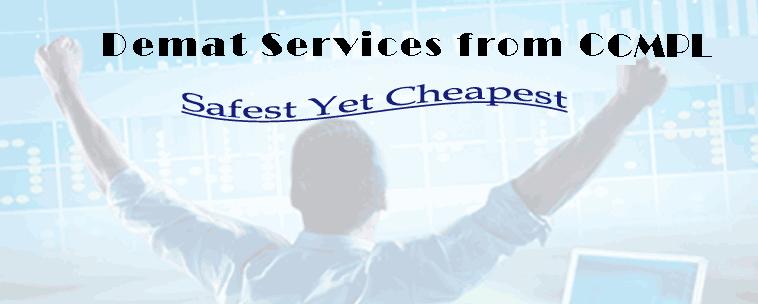 <![if !supportEmptyParas]> <![endif]>
Tariff
DP ID No. 13061700 SEBI Reg. No.: IN-DP-CDSL-514-2009
Charges & Scheme

INTRODUCTORY Scheme (CIS1)

Remarks

Account Opening Charges

Nil

Stamp duty payable as per state charge

Account closing Charges

Nil

Kit Charges (one time)

Rs. 50/-

Postal charges

BO A/c with POA

Rs.100/- per account

On account of cost of non judicial stamp paper

BO A/c with Facsimile(Fax) Instruction

Rs.200/- per account

Annual Account Maintenance

200

Upfront Charges

Sales Charges(Market & Off Market)

Rs.10/-

Flat Per Transaction inclusive of service taxes

Off market and /or Inter DP Transfer

Rs.10/-

Flat Per Transaction inclusive of service taxes

Purchase(Market & Off Market)

Nil

Dematerialisation

Rs.2 per Certificate

Plus Postal Charges of

Rs.30/- per DRF

Dematerialisation Rejection

Rs.20/-

Rematerialisation

Rs.12/- per 100 securities or part quantity or Rs.12/- per cert. whichever is higher.

Rs. 30/- per request towards postage per RRF

Pledge Creation

Rs. 25/- per Transaction

Pledge Closure

Rs. 25/- per Transaction

Pledge Invocation

Rs. 50/- per Transaction

Freeze or De-freeze

Rs.10/-

Per Request

Custody Charges

Nil

Internet access Charges

Nil

Holding &Transaction

Statements Charges

Nil

Extra statements shall be charged at Rs.20/-

Instruction Failure

Rs.10/-

Late Transaction**

Rs.20/-

Additional DIS Booklet of 10 leaves each

Rs.10 per booklet (from second DIS book onward)

To be charged based on the scheme chosen

Cheque dishonour charge

Rs.50 + bank charges
Notes
1. Annual maintenance charges are non-refundable and are levied upfront for a period of one year from the date of opening of account.
2. Late transaction charges would be collected for all instruction received after 4 PM for same day execution or execution date as pay-in date.
3. For accounts under the trader/corporate scheme, transaction cum billing statement will be sent on fortnightly basis. For investors scheme transaction cum billing statements will be sent once a month provided there is a transaction. Else once in a quarter.
4. The rates depend on the existing CDSL charges and will be revised on revision by CDSL. The charges are subject to revision by CSE Limited.
5. Interest at 18% will be charged per annum for non payment of bills.
6. The DP will not be responsible for any claims in case of instructions received late i.e. on the same day for pay-in.
7. All taxes / levies / cess as applicable.